Pocket UPS
1.0
Pocket UPS is a Pocket PC program which communicates with a UPS and retrieves information monitored by the UPS such as line voltage, battery level and UPS loading.
Pocket UPS Publisher's Description
Pocket UPS is a Pocket PC program which enables the user to retrieve the critical information monitored by an APC Smart-UPS™ or Back-UPS Pro™.


How do you you know if your computer hardware is overloading your UPS? You don't unless you ask the UPS. Most of the Smart-UPS™ models have a built-in computer and serial port (9 pin female connector on back) to which a Pocket PC with Pocket UPS software and a cable can be connected.
Once connected, start Pocket UPS and everything else is automatic. Whether you need to check for an overloaded UPS, test battery condition, monitor high/low input voltage or just check the UPS temperature, Pocket UPS makes it easy.
Pocket UPS should work on any APC Smart UPS™ with a serial port (most of them). Pocket UPS has been tested on the following UPS units.
Pocket UPS has been tested with these UPS units
APC Smart UPS 400 Full functionality APC Smart UPS 700 Full functionality APC Smart UPS 1000 Full functionality APC Back-UPS Pro 650 Everything but internal temperature monitoring which the UPS doesn't provide
You can easily make your own cable adapter to connect the 9 pin female serial cable connector on your hot sync cradle (or standalone hot sync serial cable) to the UPS. Follow this cabling diagram to add three wires between two 9 pin male connectors which are available from Radio Shack.
IPAQ Hot Sync Cradle Serial Cable to UPS Cabling
Cradle DB-9M UPS DB-9M
Tx 2-------------------->1 Rx
Rx 3<--------------------2 Tx
Gnd 9---------------------9 Gnd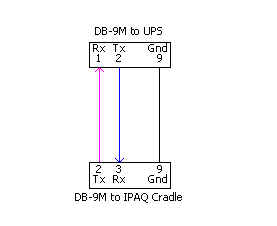 Look for Similar Items by Category
Feedback